Family chronicles
---
Family Chronicles: An article by Jamal Kidwai in the April 2012 issue of SEMINAR
Jamal Kidwai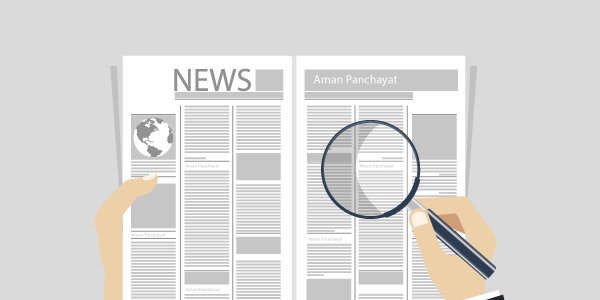 The tragedy of the Partition can be revisited from many prisms. The most common is the brutal violence and displacement that shaped the formation of India and Pakistan. In this article I will not address that aspect; instead I want to try and sketch an anecdotal history by dwelling on incidents in my family which, in their own manner, invoke the tragedy of the Partition. These incidents, sometimes comic and at other times tragic, show how the Partition created new and largely artificial identities relating to notions of citizenship, culture, kinship, family and politics. It also shows how our understanding of these concepts became expressive, on the one hand, of a kind of common sense and, on the other, left these same concepts unresolved and unexamined.
Unlike thousands of Hindu and Muslim refugees who were forced to migrate at the time of the Partition, my family members, who belonged to the Barabanki district of the North Indian state of Uttar Pradesh, migrated to Pakistan voluntarily. Many of them went to the newly created Pakistan in the early 1950s because they thought there would be better opportunities of employment. They were also convinced that borders would remain soft and fluid and they would be able to carry on their connection with India through regular visits to their homeland. Several of them continued to move back and forth between Lucknow/Barabanki and Lahore/Karachi. But then came the 1971 war and things changed dramatically between the two nations. It became increasingly difficult to get visas and permission to visit India.
Through my childhood and as a teenager till the late 1980s, I went for the summer holidays to our native village in Barabanki where we were joined by Pakistani cousins. Though visas were difficult, their parents made sure that they visited our village at least once every two years. Unlike our parents and our uncles and aunts from Pakistan, my cousins and I were from a generation that was born and bought up after the Partition. In other words, we were in many ways first generation Indians and Pakistanis. We as children were also influenced by the nationalist jingoism that was a contribution of the 1971 war, in which India defeated Pakistan; cricket matches added colour to this (in those days an India win was rare).
As children we would invariably be divided into Pakistani and Hindustani groups. We would have long arguments about who would win the next war, whether Imran Khan was a better all-round cricketer than Kapil Dev; we would even divide ourselves into Indian and Pakistani teams when it came to playing cards, scrabble, cricket or antakshari. These competitions and arguments brought small but interesting victories. Like once when in the course of an argument, a Pakistani cousin pulled out a tube of Colgate toothpaste, a far slicker plastic tube than our usual Indian toothpaste which came in tin tubes and was easily rusted. He was taunting us about the quality of the toothpaste tube which, of course, proved how backward India was compared to Pakistan. At this point one of us from the Indian team noticed that 'their' tube had a mark 'Made in India'. Nothing gave us more joy than that and the Pakistani team was not only defeated but was left embarrassed for the rest of the holidays. (Material wealth and consumer goods was one area where Pakistan, with its imported goods from the US, was far more 'developed' than India and it gave us great pleasure to puncture that aspiration.)
Ironically, the antakshari competition was always won by the Pakistani team, because they were more in tune with the old and latest film songs than us Indians. But then Hindi cinema was never considered specifically 'Indian'. That was one shared heritage of which all of us were proud of. All year round, the Indian team would religiously collect old issues of Stardust and Filmfare for the Pakistani cousins. The other such shared heritage were the mangoes of Barabanki. The Pakistani cousins would proudly boast to us how they successfully convinced their friends back home in Pakistan that the best mangoes on earth came from Barabanki.
However, there was also a small minority of Indian cousins who were 'traitors' and would support Pakistan when it came to cricket or hockey matches. They were the 'political types' who believed that Muslims in India were being ill-treated by Hindus, as they were being discriminated against in jobs and public life and that Islam was 'under threat' in India. By supporting Pakistan they seemed to have found a way to bring India 'to justice' for all the atrocities and discriminations against the Indian Muslims. They had a very novel fantasy for the hockey matches that were played between India and Pakistan. Unlike the cricket team of those days, which only had one regular Muslim member in its wicket keeper, Syed Kirmani, the hockey team had several Muslim players like Mohd. Shahid, Zafar Iqbal and others. The 'traitors' fantasy would be that Shahid and Iqbal would score a goal for India but Pakistan won the match! By this logic they would kill two birds with one stone. Pakistan would win but the pride of 'Hindu India' would be salvaged by the two Muslim members of the Indian team.
Unlike our Pakistani uncles and aunts who would come to India often to visit their relatives and spend holidays in their native town Barabanki, get to talk in Awadhi, meet family servants who bought them up and get to listen to the qawaalis and bhajans sung by miraasis (traditional folk singers), it was rare for us children and adolescents from India to visit Pakistan. The reason was very simple. The only thing Pakistan had to offer to our parents was an opportunity to visit our relatives or attend a marriage of a family nephew. One such marriage of my cousin took me to Pakistan in 1985 when I was in school. That trip was in many ways an eye opener for me, in that it exposed me to the complexities of Partition. It was then I realized that there was more to Partition than just Hindu-Muslim divide.
I went to Pakistan soon after the massacre of Sikhs in Delhi in the aftermath of the assassination of Indian Prime Minister Indira Gandhi. I had experienced the massacre and pain of Sikhs first hand. Delhi was up in smoke, the Sikh driver who took us to school had been killed, one of our teacher's house was gutted and all the Sikh students in the school were traumatized. We got involved in the collection of relief material for the survivors of the massacres in our neighbourhood. For me and those of my generation, the Partition of India and the stories of violence which we had read in school books suddenly became more tangible. In the two relief camps I visited in Delhi I met Sikh children and their parents crying and narrating their horror stories in Punjabi. Suddenly I took note of language and its association with a community.
My cousins came to receive us at the Lahore airport. There were several of us from Delhi so there were three cars that had come to receive us. Instead of going home, a cousin of mine, several years older than I, drove the car to the neighbourhood mosque to confirm with the maulana that he would come to perform the nikaah ceremony of our cousin's wedding. We had always talked with our Pakistani cousins in Hindustani. But to my surprise, when we went into the mosque and met the maulana and others present there, my cousin spoke to them in fluent Punjabi. I was shocked. I could not believe my ears when I heard Muslims too speak Punjabi. I had imagined that everyone in Pakistan spoke in Urdu.
My shock was soon transformed into amusement and I insisted that from then onwards my cousins would also speak to me in Punjabi and I tried my best to learn the language with them. A day later I went alone for a stroll to the nearby posh Liberty Market. I stopped at a juice shop and asked for mixed juice in Hindustani. Since there was no response from the shop owner, I asked again. He looked at me scornfully and said, 'Agar itni Urdu jhaadni hai to Karachi mein jaake juice peo' (If you have to talk in Urdu, then go have your juice in Karachi). That's when I was first introduced to the term mohajir and realized the antagonism towards Urdu speaking migrants in Pakistan. I innocently told him that I was from Delhi. Suddenly the juice owner became apologetic, quickly made me a glass of juice and also refused to take any money.
On another occasion after a visit to the Lahore Fort and Badshahi Mosque we went to the nearby Dera Sahib Gurdwara. When the priests and other Pakistani Sikh devotees realized that we were from India, all they wanted to talk about was the massacre of the Sikhs in Delhi. I was accompanied by my uncle from India who always prided himself on espousing the values of Nehruvian secularism. With my limited political understanding of that time, I could sense that he was at a loss of words and defensively at pains to explain that the Indian state was in fact as communal, if not more, than the Pakistani state that follows Sharia law and treats 'its' minorities as second class citizens. The trip to Karachi and Mohenjodaro in the Sindhi heartland showed me that Pakistan is as diverse as India and was much more than the combined and random charms of Colgate toothpaste, Imran Khan, Islam and Urdu. The only thing it seemed we had in common was a love for Hindi cinema.
But soon we were at it again. This time there was another discussion that excited us. There was a consensus amongst the teams of Indian and Pakistani children that Akbar was the greatest king ever to have ruled the earth; except that the Pakistani team insisted that he was a Pakistani king while we Indians claimed that he was an Indian!
The tragedy of the Partition cannot be reduced to children's games. However, as we grew up, it did not take us long to realize that the arguments we had as children, which seem juvenile now, were informed and coloured by a great many anxieties that haunted our families as a result of the Partition. Several close relatives of my parents generation were divided. Some brothers went to Pakistan leaving their parents and siblings behind while, in some cases, parents went to Pakistan leaving their children behind with other relatives to complete school. Relatives of that generation never thought that the borders would become so rigid and travelling across borders so difficult. If they had any indication that things would become what they are now in terms of a visa regime and restrictions, I am certain many of them would have had several second thoughts before they settled in Pakistan.
Yet, there have been numerous instances where they managed to challenge and subvert the two nation states in their own innocent and apolitical ways. In the days when there was no internet, the common strategies adopted to get Indian visas for the relatives from across the border was to send a fax asking them to immediately come to India to pay their last respects to one of their (fictional) close aunts or uncles who had died. There was a standard fax format, and only a new date had to be put. If one were to start a count of such 'deaths', none of us would have any relatives left from the earlier generations.
Once when the visa got delayed at the Indian embassy in Pakistan, and my uncle enquired from one of the officers the reason for the delay, he was told by the Indian embassy officer: 'What could we have done, your aunt died on the weekend. Make sure the next time there is a death in India, it happens on a weekday so we can process the visa immediately.'
On another occasion, sometime in the late 1960s, two first cousins were to get married. The bride was from India while the bridegroom was from Pakistan. The visas were refused, so the bridegroom from Pakistan arrived with a large baraat at the Pakistan side of Wagah border and relatives from India took the bride to the Indian side of the border. Thanks to our 'contacts' with the BSF and Pakistani Rangers, the two sides were allowed to meet and perform a quick ceremony at the border.
But the incident that stood out was when two old grand aunts from Barabanki decided to visit Pakistan to meet their other sister. They had rarely travelled to Delhi, leave alone international travel. Their passports had to be made. So the forms were filled and they were sent to the passport department with their photographs. They looked alike with only their faces popping out of their hijabs. The passports were made and the Pakistan embassy sanctioned the visas. When they flew to Lahore the Pakistani immigration authorities found something odd about their passports. On a closer look they discovered that their respective photographs had been pasted on each others passports. Those were the days prior to the Kargil war and before border terrorism had become a norm. The Pakistani authorities realized that the Indian passport authorities had inadvertently mixed up the photographs of the two sisters, so they promptly detached the photographs from the passports and put them on the correct ones. As the old saying goes, 'This happens only in India and Pakistan!'
But things are no longer the same. Ask any middle class Pakistani who comes to visit family in India and they will narrate the horrors of getting an Indian visa, and the gruelling and sometimes humiliating reporting procedures at police stations. The stories one hears from across the border are no different.
This article is not the occasion to get into an academic debate on the concept and theory of the nation state, but from my personal and limited experience it seems obvious that nation states have an intrinsic tendency to become exclusionary, communal and militaristic. In order to survive they invent new communities and rewrite histories to justify their existence. To achieve this ideal of 'peaceful coexistence' between India and Pakistan or for that matter any other country, however seductive, will not be possible until the whole paradigm of the nation state is challenged and subverted. This may sound like a dream, but then the best realities are made up of collective dreams. And when it comes to dreaming, who can beat the Indians and the Pakistanis?